​Thank you guys!! They did an excellent job on my door! It was badly damaged and they made it look brand new.  Jose and Julio were very courteaus and helpful.  I would recommend them any day!

Thank you,

Diane

Friendswood, Tx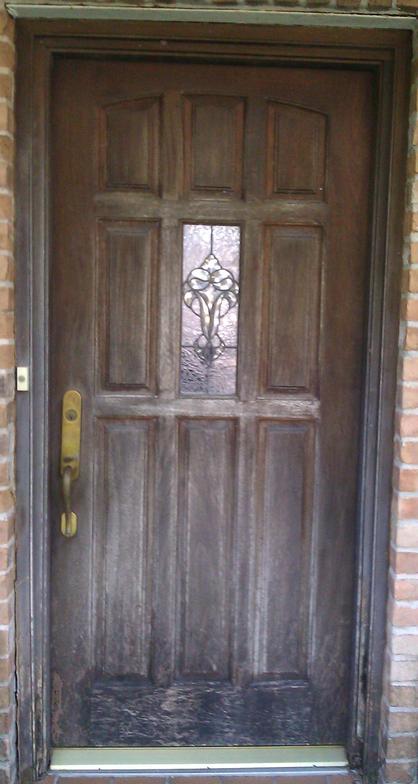 Before I contacted Refinishing A Door, I thought my door was beyond repair.  They came and took a look and tole me there was no rotted wood and they could refinish the door.  At first I was hesitant on if they would be able to refinish the door, but the technition was so friendly and helpful and put me a little more at ease.  I was so surprised by the quality of my door, considering that is was in such bad shape.  It's absolutely beautiful now!  Thank you for doing the most perfect job!!

Thank you so much!!

Bart

Houston, Tx

I had a door and side lights and the technitions were very helpful on taking care of us.  They did such a wonderful job and my neighbor seen my door and called and had her door refinished.  We are both so happy with our beautiful doors and have  recommend this company to my other neighbors.  I wouldn't want them to go any where else.  

Thanks so much,

Mata

Houston, Tx

My door was 10 years old, and has been refinished before, but not a deep refinishing, so my door was in need of help.  I contacted Refinishing a door, and they came out, were very nice and helpful.  They even cleaned up after themselves so nicely.  They made my hardware look Brand New, I couldn't believe that it was the same hardware.  They did an excellent job!

Thank You, 

Brenda

Pearland, Tx

I have a fiberglass door, and it was in bad shape.  Many people have told me before that no one could make my door look like a wood door.  But I contacted this company, they came out, and refinished my fiberglass door and made it look just like wood. We are very happy that we choose the right company and would recommend them to anyone with a fiberglass door, because they are the experts in refinishing fiberglass door.

Thank you, 

Ellen

Spring, Tx

Pedro and Jose did an excellent job on my door.  I have double doors that were damaged badly from the weather and I contacted Refinishing A Door.  They came out right away and made my door like a brand new door!! I am so happy with my door and would recommend these guys above any of the rest!

Thank you, 

Clay

Katy, Tx

​I have an old door that I wanted refinished, and I talked to another company and they told me that my door was beyond repair.  I called Refinishing A Door, they came out, took one look at my door and told me it would be no problem to refinsh my door.  They did such a beautiful job, I couldn't believe how nice it looks.  They were very helpful, and even took the time to repair my lock and the weatherstripping under the door, all for free! I have recommended them to all my friends and co workers. 

Thank you Refinishing A Door

Bridget

Cypress, Tx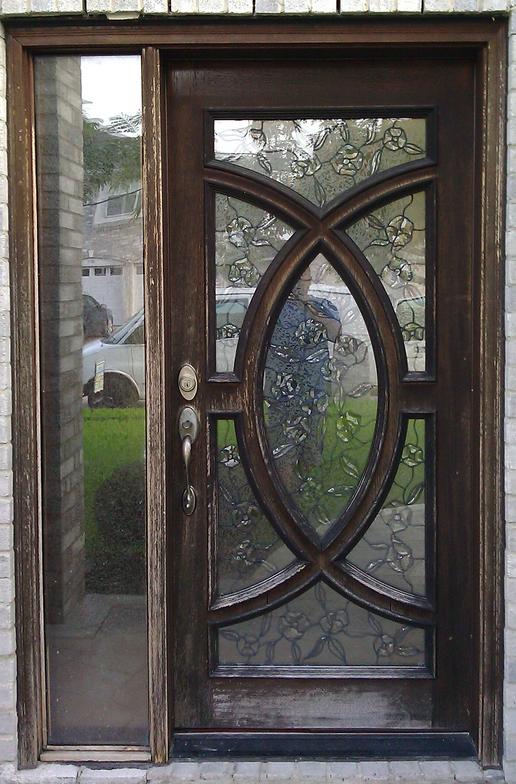 This is the door we did for Bridget.

Swipe the mouse over the door to see the results!

Martin and John came out to refinish our door and did a great job!  They were on time, explained everything they were gonna do, which was very helpful.  They got right to work, refinished the door so well it looks like a brand new door.  They installed my new hardware for free, and even cleaned up everything behind them! I'm very pleased and happy with their end result!

Thank you,

Collin

Jersey Village

Refinishing A Door made me feel very pleased with my door.  It had a lot of damage, but they repaired my door, refinished it and made it look like a beautiful new door.  I would recommend them to any one who needs their door to be refinished.  

Thank you, 

Robin

Sugarland, Tx

I live in katy tx, my front door was scratched from my dogs for years, so I called  couple places that said I needed a new door, but then I called Refinishing a door, and they came out and said "it can be done". they were able to remove the scratches with no problem and once they stained the door and put a clear coat, they were no scratches visible! they did an amazing job! -patricia

I have a fiberglass door, and I had called several front door companies and they came out and they took a look and said they couldn't do it because it was fiberglass, but then a friend of mine told me that you should contact "Refinishing a door", and they had done my door a year ago and it came out wonderful, so I contact them, they came out and I was just impressed by the quality of work. my name is alyssa I am from -pearland tx

my name is Stephanie I am from League city, Tx. I have a front door with two sidelights, I called "Refinsihing A door" I found them online and looked at the website and decided to call and spoke to Olivia, I explained to Olivia my situation, she asked a couple of questions, I told her about the flacking and drying and the faded color, and she gave me an estimate to refinish the front and sidelights and it was gonna cost $700 dollars, at first I was thinking it was a little bit to  pricie, but she explained the process and the amount of work it takes to do the job, so I agreed for them to come out, they called me the day of the job and they said they would be a little late, which of course frustrated me a bit, but never the less once they got here and did the job in a timely manner, by the end of the day I was very happy and impressed I could have never been more satisfied relieved.

 Houston Tx, our door is an 8' door and we wanted refinished Saturday, it was a light drizzle of rain, but then when I called that day about the rain, they assured me that they can take care of it with no problem, cause they carried canopy's, and sure enough in only few hours I had my door looking like I hadn't seen in years. Thank you guys, Yall did a fantastic job! 

 My name is Steve, I had two glass pieces that one was very deeply cracked and the other was missing pieces, I had called to different glass companies for estimates and was given very high prices, but then I heard of "Refisnishing a door" I give them a call and ask if they did any glass work, and I was in luck, cause they had came out took a look at my glass, and scheduled an appointment with me, and they got to my home they had the exact replacement pieces I needed down to the very design, all work was down in a timely manner, and terrific prices. Rosenberg tx 

I am from Houston tx, I need to get my double doors done, they were looking pretty bad, so I called "refinishing a door" Olivia gave me a free estimate over the phone, I was a little hesistated due to the fact that they would be refinishing the door here at my home, joe had shown up, and explained that the job would be done safely and neat, because they had put tarp downs and covered everything that needed to be covered and to my surprise there was no mess, it was very professional! -Lizzie cypress tx

my name is Ashley , I called refinishing a door and scheduled with them that day the very next week they came out and did my front door fast and very neat.

Sugarland Tx.

Rudy, I was very pleased with the company's work . their attitude towards me was very good I would recommend them 

Alvin Tx.

​This company is a life saver . my family was coming in from out of town and I had a week to get my house in order , I called and spoke to Olivia and she talk to her boss they were full but they made room for me .the  company came out  took care of my flakey ,fade door .  they are very understanding ,I am one pleased lady.

Janet : Houston tx

Julio and tony did an excellent job they are very professional  Mr. Patterson 

                       spring Tx.

I hired this company to do my front door .they came late were a little messy . but in all this they made my door look very nice . the crew was very nice and explain everything to me . 

Bellerie Tx

came  out late about 15-20 mintues they did all to let me know they finished ,did leave a bit mess but I was satisfied

Mr. Nguyn 

I want to say Thank You to Olivia and the guys they are such a great help , she explained how the work and how it  would be doing step by step .she assured me that  my door would be done right .I felt very comfortable I had no mess they made sure my door would look brand new ..

Thank you 

Olivia

I was pleased with the work the crew did .My garage and front door look beyond amazing , They were very professional and on time .I hope to have their server in the future 

Mrs. & Mr. Roberson 

Hockley Tx

I scheduled the appointment  with the company and they were supposed to be at my house at 12 and showed up an hour and a half late with no call  or notice 

Ellen

Sealy TX 

I was very impressed by their work they did on my garage doors they were very neat and had great attitutdes and did a phenomenon job ,thanks guys  Phil

Beaumont tx 

So I have these sidelight that were cracked and very faded and was missing a piece at the bottom Erick and Joel  fix the light and made it look like if it was never damage.

Thank you 

Susie Katy Tx

I recently bought a home in Baytown tx and its  a little old but I wanted to do a little up grade so first thing was my door the previous owners had the door painted black I was going to buy a new one but they have outrageous prices. my neighbor s door look like new I ask her how much was her door and where she got it , she said she had it refinished she gave me the name I called the company ,I was told I didn't need a new door and that they could fix the problem and make my door look new . the job was done and my door looks excellent.

jane 

Baytown tx 

I had never had my door  refinished before so I really didn't know what to expect ,but when I called refinishing a door  they explained to me what was goanna happen to my door ,and how the process goes they were very helpful , Thank You Olivia 

Mrs. Johnson

Deer Park

​ we had a  really bad door that needed  weather strip, so when the guys came out they checked our door ,and told me I need to have it replace I would have never known these guys really are good 

Tom

Santa  Fe Tx 

After Julio and tony were done with the door, they had Informed me about the maintenance service. they  explained that it saves your door from ever really getting weather damage .                                                                                                                                                                                         Sarah 

                                                                                                                                                                                                                        woodlands tx 

My name is Jason the guys came out and did a great job on my double doors !!!!    Thank You! 

fulshear tx

My door is a very old door and has lots of design on it. I was worried that they would damage the designs and Julio assured me that this could be done with out damage my doors designed .                                                       

Libby 

Galveston tx

They were very helpful on all my questions about my garage doors and side light , 

evan 

Tomball Tx

I had my door refinished in June 2016 and I was amazed of what a wonderful they did on my front and patio doors.They matched the stains exactly like the back side Thank you to the crew that came out her in the horrible heat . -Emma Ann

  Brookshire Tx

I was surprised how fast this company was to come fix my glass that my son broke on the front door . It was two panels of glass . Their prices were reasonable good customer service. Thank you      Houston,Tx 

We had our double doors refinished along with out sidelights .Everything was done in one day ,they were about an hour late but got the job completed, what really caught my attention about the company was the Marine Spar Varnish ,and the warranty that comes with their work.

         Rosenburg Tx

Fantastic Job !!!!!!!!   Thank You 

Katy Tx

I wasn't so happy with they little bit of messy the crew made but my door looks nice .

  Houston Tx 77077

​I had to call the office several times before getting a response back , when I got an appointment I had to wait a week an half for them to come out to my house . They did a fair job I would give them 4 stars if I was able to rate them on here . Thanx  -Crissy  Pearland Tx

I've been using Refinishing A Door for several years now and they do a WONDERFUL job on my 3 sets of double doors , I don't mind spending reasonable money for they job they have do .Couldn't be more pleased. -Mrs.Gardner      Pearland Tx

 My son cracked the window on one of my sidelights. I called a few different companies and got some reasonable quotes but refinishing a door was the only company that offered to come out in person for a free consult. They came out to take a look at the glass and let me know about their refinishing specials. I decided to get my sidelights and my door refinished as well and boy what a difference it made! I knew my door was a little worn out, but I didn't know it had gotten this bad. I've already recommended them to a few of my neighbors! 

Bill - Spring, TX 

I've used them on and off for the past 10 years. Jorge is a miracle worker!

Susan - Humble, TX 

Great work!  

Nancy – Dickinson, TX 

Scheduled and had work done within three days! I was incredibly satisfied with their work. My door looks amazing! 

Dale- Houston, TX 

I just want to thank you for the job well done. My door looks stunning! 

Tony- Houston, TX 

The technicians brandon and julio did a terrific job: punctual, clean with pride in what they doThey having an eye for quality, and no short cuts.

I have paid $600 including the marine sealant and the weather strip that they with a year warranty  sam-cypress

We live very far in montgomery and we were having trouble for some one to come out this far but they came out and did a good job i recommend them to all my  friends and family my doors have a beauiful like new again color and look  thank s guys. stephanie kramer- montgomery tx

What a great job the refinishing a door did .The highest quality in work , the price is fair and the service is impeccable. I would highly recommend refinishing a door 

tammy skinner- houston tx

Refinishing a door came out and refinished my door, excellent customer service and high quality workmanship. They will also address any issues after the fact. 5 out 5 Stars for me!!Highly recommend them. brook davis-Tomball tx

Thanks so much for your quick turnaround and for affordably getting our home's issue resolved. Looking forward to working with you all again.       kelly wells-spring tx

Tony is a master of his craft. It's great to see someone who takes the time and truly cares about their quality of work. He takes the time to make sure you are happy with his work before he's finished. 5 stars for service and customer care.

                                                                                                                                                           felicita estrada-sugarland tx

This door company came out and refinishing our sun dried door and restain the door and made it look new again . they took there time even ajusted my door  katy acosta -deer park tx

Tony did an excellent job. He is very honest, hard working and pleasant to deal with. We were very impressed with the quality of our refinished door. I highly recommend him and the company Josh reed -houston tx 

tony and brandon did my door in 4 hours each step was explain to me and done very professional  and polish my hardware was happy if you want your door done right use this company..                                                                                                                                                  Joanna hall - waller tx

tony and ricardo did a great job on my front  double door . they were a little late but they called to let me know and did an excellant job ..everyone like my doors there a good team and a great company check them out to get the job done                                                                                      norma cotton-houston tx 

My metal door are so old an had lots of rust and tony and mike took out the rust and smooth the spots and then sealed it so it can last longer they were honest and fast my doors look great..Thank you                                                                                                                                                          sam jones - houston tx 

Thanks so much for your fast turnaround and for affordably getting our home's door refinishing issue resolved. Looking forward to working with you all again. Laura Pesina -Katy tx  

Excellent customer service and fast response. Thrilled to have a found a quality door refinishing company near me. Highly recommend. Cora Davis-spring tx

Quality work done right the first time. The best services for your home services near my house .Thank you Gary Wade

this company is so easy going I sent a photo and the address and they gave me an estimate over the phone George and Brandon came right out got my door refinish they made my door look brand new and save me money . family and friends notice the door right away.. I recommend them there great             Tammy sims-Fulshear tx  

They are very professional. Also, they did a great job on my front door. Highly recommended them to everyone. If google have more STARS its will more than 5 STARS      Shirly Taylor- Pasadena tx 

Outstanding job & even came back to check & make sure everything was perfect .Would definitely recommend! Will be seeing you guys again next year. Calvin Silva-Tomball tx 

refinishing a door is a great affordable company  they even came out and did my garage as well as my glass  one stop shop they are very knowledgeable with there craft  it is a great company guy are very nice and responsible to my home needs .. every one like my door and garage I recommend them to my neighbors Thank s guys . Noah brown -jersey village tx 

George  is professional always on time. Refinished my double doors with walnut finish. amazing and really professional. Had to call for a small repair later he had no problem coming out. Will use him again for further jobs and recommend him to friends and family.                                  Liam adams-houston tx 

refinishing a door  arrived exactly at the proposed time and completed the job in about 4.5 hours. It was a complex door refinishing job and their skills are masterful and professional. I got a couple of business cards to give to my neighbors. The service is affordable and the work is of great quality!    Oliver hall-Houston tx